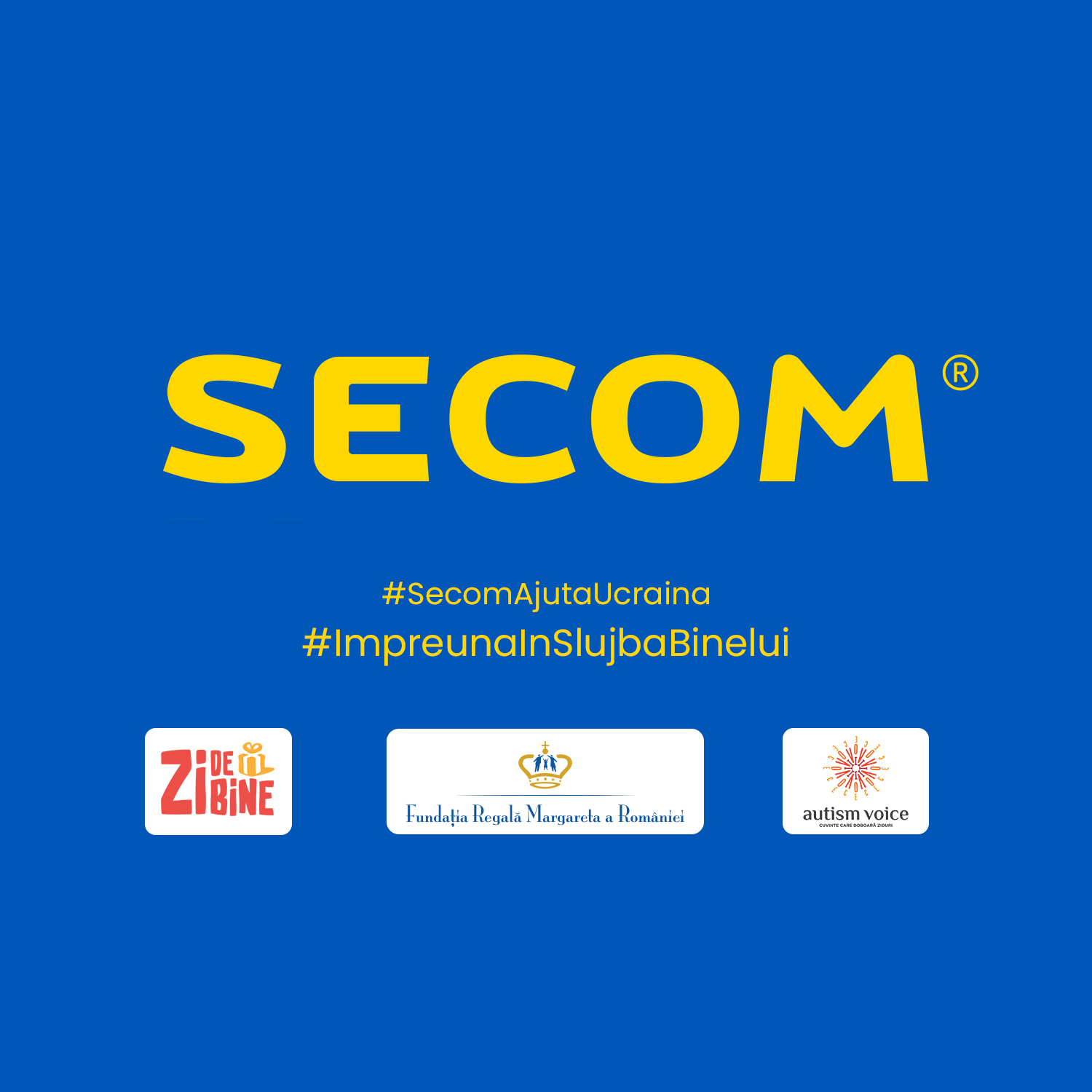 Bucharest, 13th of April 2022 - Secom Healthcare Group, a well reputed organization on the Romanian dietary supplements market, continues to support families hard hit by the war in Ukraine and helps over 500 refugees: mothers, children, autistic children and elderly people.
After having donated over 5000 food supplements for physical and psycho-emotional support, through Zi de Bine Association, Secom® now joins the efforts of The Margareta of Romania Royal Foundation (Fundația Regală Margareta a României) and supports over 250 refugees from Bucharest between March and June 2022, providing them with accommodation, food, childcare, and social counseling.
The company also decided to stand by the mothers and children with autism spectrum disorders in Ukraine, who live in the Autism Voice House on a temporary basis. In the newly opened shelter, the 21 beneficiaries can enjoy not only safe housing and food, but also assessment, therapy in social groups and specialized psychological counseling.
Through the donation offered by Secom®, Autism Voice will also provide social assistance, logistical and legal support for declarations, medical documents, or consular links - physically or remotely, as appropriate - to another 200 families with autistic children in transit, as well as psychotherapy for another 100 parents or caregivers of Ukrainian children with autism.
"The situation of our neighbors in Ukraine, the daily news about the atrocities to which the brave Ukrainian people are being subjected deeply sadden us. But we focus on what we can do, so that we can offer a glimpse of good and hope to the families in distress who have arrived in Romania. Solidarity and humanity are the only ones that can help in such times." says Lucia Costea, co-founder & CEO of Secom.
Under the umbrella of Secom's philanthropy program Together in the Service of Good (Împreună în Slujba Binelui), the company has also launched an internal #SecomHelpsUkraine (#SecomAjutaUcraina) action through which team members can donate products needed by refugees - clothing, footwear, hygiene products etc - or make cash donations.
And as solidarity is now more important than ever, you can also contribute with a donation:
AUTISM VOICE – Fiscal Code CIF 23830437,
Bank Account: RO49BACX0000000968803037 - UniCredit Bank  –   for Casa Autism Voice
FUNDAȚIA REGALĂ MARGARETA A ROMÂNIEI – Fiscal Code: 10981730,
Bank Account: RO77 BACX 0000 0001 2931 2250 / LEI    - UniCredit Bank – for Ajutor pentru refugiați
About Secom Healthcare Group
Secom Healthcare Group was created in 2021, around Secom®, a well reputed entrepreneurial company on the Romanian market, which has built a solid reputation in the import and distribution of premium natural healthcare and beauty products.
The group consists of 4 divisions: Secom® - the business-to-business division which manages the portfolio of imported products, Secom® Retail - the business-to-consumer division which coordinates Secom's chain of physical stores as well as the online platform secom.ro, Good Routine® -  own brand of dietary supplements and Verithera - the Functional and Integrative Medicine Clinic.
Secom Healthcare Group currently has a team of 200 people and a portfolio of over 400 premium products in three categories: dietary supplements, teas and natural cosmetics, made by renowned international manufacturers, as well as a wide portfolio of medical services and complementary therapies - offered within the Verithera Clinic in Enayati Medical City.
More details on www.secom-healthcare.com.