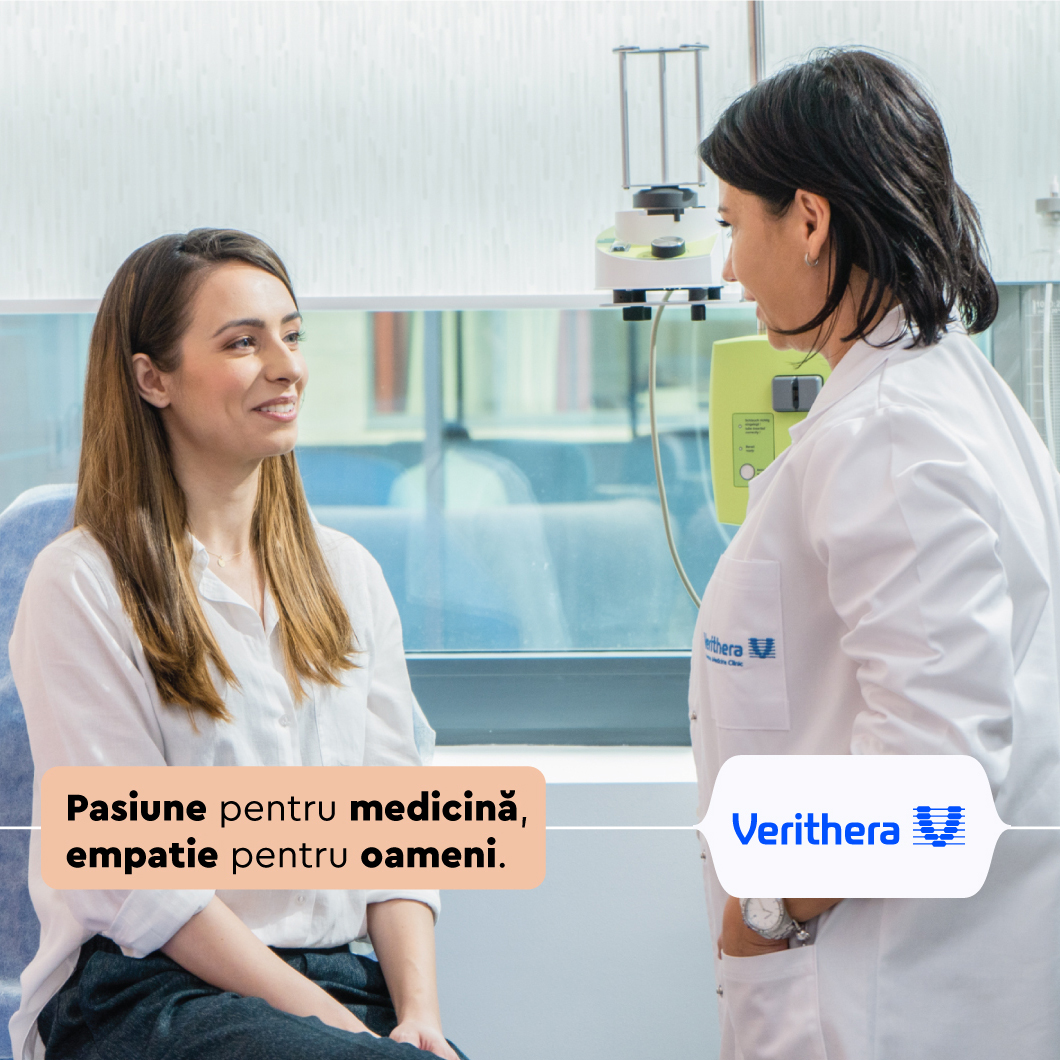 Verithera is located in Enayati Medical City in Bucharest and offers a wide portfolio of medical services, focusing on therapies complementary to allopathy, to support patients with chronic diseases.
 Bucharest, 15th of September 2021 - Secom®, one of the first companies to introduce the concept of integrative medicine in Romania as early as 2002, launches the Verithera Functional and Integrative Medicine Clinic. Verithera takes this valuable experience to the next level in a developed, modern, streamlined formula, offering a wide portfolio of medical services and complementary therapies at the highest standards.
Currently, in the Verithera Clinic, patients have access to: functional and integrative medicine examinations, scientific phytotherapy, oxygen therapy in a high-performance medical hyperbaric chamber with beneficial effects, ozone therapy, intravenous nutritional therapy, nutrition and metabolic disease examinations, acupuncture, psychotherapy and health coaching, as well as nutrigenetics and microbiome testing.
"The medical services and therapies offered at Verithera Clinic complement and support, safely and effectively, the allopathic treatments already followed by the patient, with scientifically proven benefits in multiple conditions", says Andrei Stefaniu, General Manager of Verithera Clinic.
The complementary therapies offered at the Verithera Clinic help the body's own healing mechanisms, enhance the beneficial effects of allopathic treatments, help the patient better tolerate the effects of more aggressive therapies, contribute to a better recovery from surgery or acute health problems, treat or relieve chronic pain and improve the patient's physical and mental health.
The team at Verithera is made up of medical specialists in medical recovery, diabetes, nutrition and metabolic diseases, psychotherapists and other certified therapists. They approach each patient in a multidisciplinary way, through constant collaboration, in order to offer personalized treatment solutions, based on both professional competence and human, empathic relationships.
"Verithera doctors and therapists approach the patients in a holistic manner, analyzing them as a whole, considering all the factors that can influence their health: personal and family medical history, genetic factors, but also emotional, social and environmental factors, treatments followed, attitude towards the disease, diet, etc. - in order to prescribe individualized therapies. In addition, at Verithera, the doctor develops a therapeutic partnership with the patient, based on empathy and listening, which contributes significantly to the success of the treatment", adds Andrei Stefaniu.
The beneficiaries of the medical services and complementary therapies offered by Verithera are patients suffering from chronic conditions, but also people concerned with prevention, who want to maintain good health for as long as possible.
"We treat people, not diseases. This is a basic principle in functional and integrative medicine, to which we relate in the Verithera clinic. That's why we focus on understanding the uniqueness of each patient, giving them necessary, quality time to discover their personal medical history, but also the context behind their health problems. We believe that listening carefully to the patient can be an important part of the medical solution to their problem. And for us, it is important that patients feel they are in good hands, listened to and understood" said Andrei Stefaniu, General Manager of Verithera Clinic.
More information about functional and integrative medicine, Verithera's services and medical team, can be found at www.verithera.ro.
Details about Verithera therapies
Hyperbaric oxygen therapy or oxygen therapy offered at Verithera Clinic is indicated in multiple conditions: respiratory, cardiovascular, circulatory, pulmonary, neurological, ophthalmological, oncological, complications of diabetes, severe burns, wounds, decompression sickness, as well as in sports medicine.
Verithera Functional and Integrative Medicine Clinic is equipped with a high-performance hyperbaric chamber, for medical use, which provides 100% pure oxygen at a constant pressure of up to 6 atmospheres.  The technology was developed by the American manufacturer Perry Baromedical, number 1 in the USA and one of the world's leading manufacturers of hyperbaric monoplace chambers (chamber that provides individual treatment for each patient).
Ozone therapy, also available at the Verithera clinic, is a well-known treatment for rheumatic conditions such as arthrosis, herniated discs or lumbosciatica, for various cardiovascular conditions and diabetes, but also for its ability to slow down the aging process.